The Psychogeographical Commission Shop
DVDs
Ripper the Banishing



CDs
Albums
Urban Psychetecture

Widdershins

Patient Zero

Genius Loci
Compilations
Sacredly Silver & Equally Gold

Abraxas 2

Bacterium

Torture Garden
MERCHANDISE
Necklaces



DVDs
Jack the Ripper: the Banishing






In 1888 a series of ferociously horrific murders in the East End of London shocked Victorian Britain and quickly the rest of the world. Both the Metropolitan Police and Scotland Yard were overwhelmed by both the frequency of the attacks and the intense scrutiny which came with the new age of inexpensive mass-circulation newspapers and magazines. The fledgling media, hungry for details to shock and titillate their readership, whipped the world into a frenzy of terror with a mixture of fact, rumour and fabrication which muddied the waters further for the investigation. They seized upon a name signed on one of hundreds of fake letters sent to the police claiming to be from the murderer, a name which is invoked to this day by a modern media eager to sell more editions.



'JACK THE RIPPER'


Between 3 April 1888 to 13 February 1891 eleven separate murders were committed in the East End of London. Of these, five were linked by the press and police due to similarities of weapon used and the wounds inflicted, these became known as the canonical five victims of 'Jack the Ripper'. There is a growing theory that a single 'Jack' never existed and the widely publicised weapon and modus operandi were ceased upon by criminals in the area to allow them to murder with impunity. Jack the Ripper is a fabrication of the media, empowered and perpetuated to this day by the Tourist Industry. The time has come to seperate out the murders and put the 'Jack the Ripper' meme to rest

On the 31 August 2013, 125 years to the day after the first of the canonical five murders, The Psychogeographical Commission visited the five Nicholas Hawksmoor Churches which form a giant pentagram in the East End of London. At each one we buried a large nail engraved with the name of one of the victims to link them with that Church and performed a small banishing ritual. The Churches were visited in such an order as to charge the larger banishing pentagram creating a greater ritual to allow the overhyped mythology of the Ripper to be returned to its five major component parts and dispelled.




DVDr(PAL) release in slimline DVD case packaging












Albums
Urban Psychetecture
The Psychogeographical Commission's latest release is a free to download album called 'Urban Psychetecture'. It contains a selection of tracks off their first two albums as well as a few previously unreleased covers



Free to download from Bandcamp
Widdershins
This recording documents a journey around the inner circle of the Glasgow Subway system which travels in an anticlockwise direction (widdershins), a constant banishing ritual performed daily upon the whole of the west side of Glasgow.

Total time: 24Mins
miniCD release in 8cm DVD case packaging
£5 + £1 P&P (Worldwide)



Digital Download + PDF artwork available at Bandcamp
Patient Zero
The Psychogeographical Commission's second album is an attempt to psychologically portray the mind of a Patient Zero wandering through their Urban surroundings infected with a solar disease at the Summer Solstice and tracking the advancement of symptoms as the sun goes from the height of it's earthly power to it's astronomical nadir.
Written throughout the six month period at times of lunar or solar significance, each song portrays a thought, experience or mood of the time and place of it's conception, a true record of the Sun's dark passenger.
CD release in slimline DVD case packaging




Digital Downloads available at Bandcamp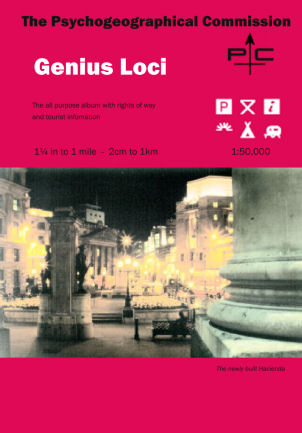 Named after the Roman mythological 'Spirit of the Place' the Psychogeographical Commission's debut album attempts to explore further the Psychogeographical nature of our built environment and is therefore written to be played whilst interacting with a city, but it sounds equally great on a stereo.
Remastered CD release in slimline DVD case packaging





Digital Downloads available at Bandcamp






Special edition 'Map book' CDR pack (limited to 250)


Compilations
Sacredly Silver & Equally Gold
A 3-cd digipack tribute to the musick of Coil.
Featuring alongside us: Electric Sewer Age, zK, Testing Vault, Kristus Kut, Human Nihil, Kalte Rippchen and Adam Stalker, and many others

Limited to 300 copies

Purchase direct from Else.Product
Abraxas 2
A joint venture between Treadwell's and Fulgur, Abraxas is a independent journal of historical and contemporary occultism. Through its pages will be manifest the voices of working occult experience and the visions of esoteric artists, alongside keen insights of original scholarly research.
The second edition (Summer Solstice 2011) contains the CDs 'Tesserae' compiled by Gavin Semple.

Purchase direct from Fulgar
Bacterium
"Plural bacteria: Any of a large group of one-celled organisms that lack a cell nucleus, reproduce by fission or by forming spores, and in some cases cause disease. They are the most abundant lifeforms on Earth, and are found in all living things and in all of the Earth's environments. Bacteria usually live off other organisms. Bacteria make up most of the kingdom of prokaryotes (Monera or Prokaryota), with one group (the archaea or archaebacteria) often classified as a separate kingdom. See also archaeonprokaryote.


Packaging: 4-fold Digipak with 12-page colour booklet

Stocks of this album have now SOLD OUT



Torture Garden
Torture Garden - A Shinto Records Experimental Compilation



Stocks of this album have now SOLD OUT.








MERCHANDISE
Necklaces


Psychogeographical Commission Pendants in a gun metal finish, each with a unique background and a Rolo Style Chain




Choice of three styles
£5 + £1 P+P (Worldwide)





| | | |
| --- | --- | --- |
| Round | | Oval |
| | | |
| | | |
Sun