Events Archive
Folk Horror Revival: The Unseelie Court
Summerhall, Edinburgh 21/10/2017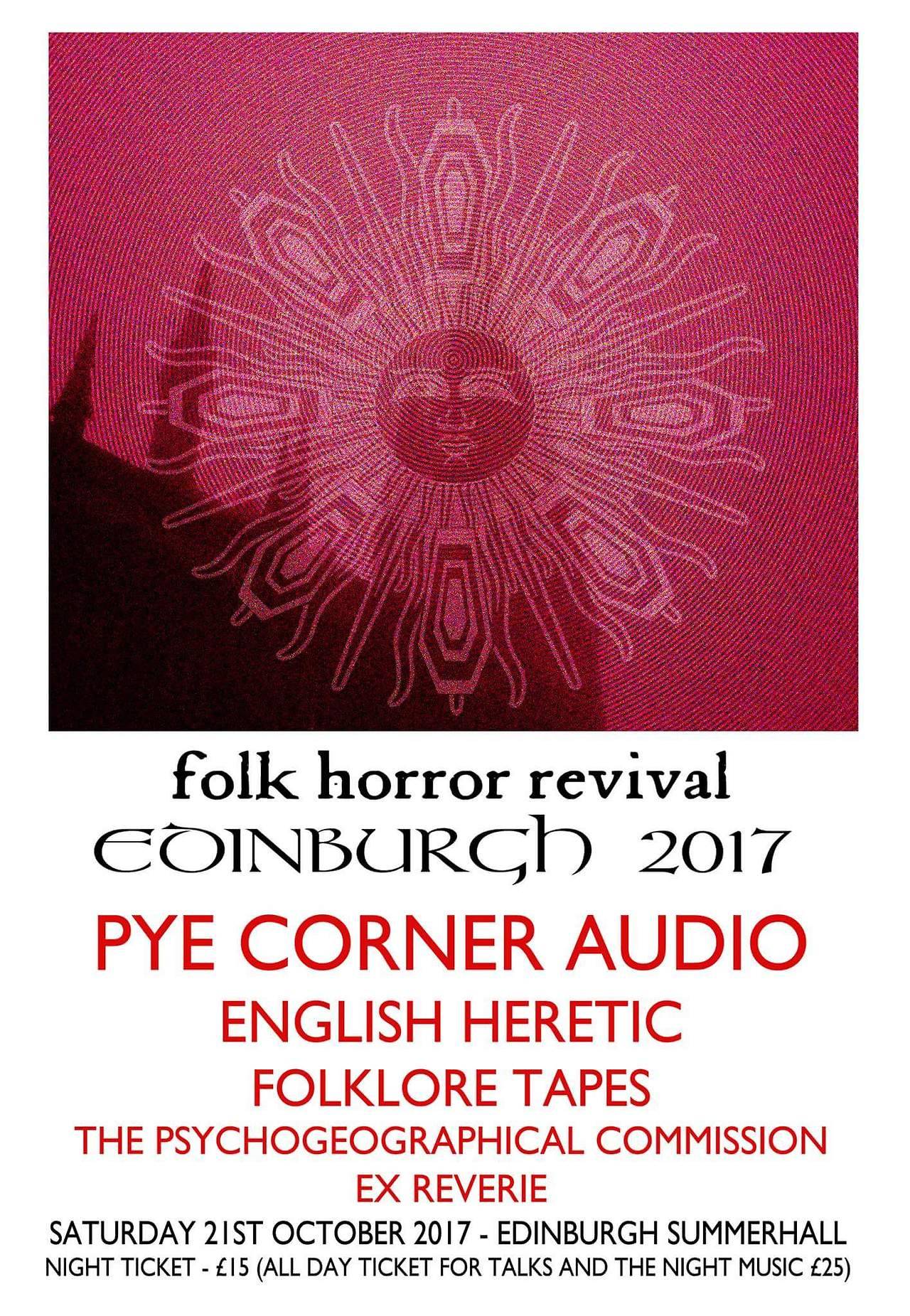 Tickets £15 (Evening event only)
(£25 ticket includes full programme of lectures in the afternoon)
Available directly from
Summerhall
Cult television programmes and films of the 1960s and 70s are inspiring a new generation of poets, writers, artists and musicians with their atmospheric themes of contemporary individuals interacting with a uniquely British world of ancient mythology and magic, often uncanny and unsettling.
This special events will feature talks, film screenings and performances to explore themes of cultural rituals, earth mysteries, psychogeography and folklore.
Named after an uncanny host of supernatural beings in Scottish folklore,The Unseelie Court comprises of two events- a day event largely focussed on talks and a night event focussed on music. A separate ticket will be required for each event, with a discount for those attending both.
Also playing the Evening event:
THE PSYCHOGEOGRAPHICAL COMMISSION +
SECURITY + (AISTOB)
The Old Hairdressers, Glasgow 8/02/2014
The Psychogeographical Commission
Renowned for their merging of mythology, music and film, The Psychogeographical Commission delve into the Jack the Ripper legend. With the soundtracking of five films they'll separate out the murders of 'Canonical Five' victims to expound the theory that a single 'Jack' never existed in a banishment of the 'Ripper' meme.
Security
Security are a duo formed in 2009 by Joe Ahmed (Chekists) and p6 (OV, Desalvo and Stretchheads) through a mutual love of techno pop and industrial electro. The duo's recent compilation Security #1, was self-released as a highly limited lurid yellow cassette and finds them channeling the spirits of Throbbing Gristle, Hard Corps and Fad Gadget.
http://security.bandcamp.com
(aistob)
(a is to b) is equal parts Crystal Castles' domineering sonic assault and The Haxan Cloak's crepuscular, gloomy atmospherics. At once lo-fi and viscerally immediate, they exist in the perceptual bleed between transgressive performance art, punishing electronic noise and somnolent, dark ambient void-space.
http://aistob.bandcamp.com
Unearthing Forgotten Horrors
The Star and Shadow Cinema, Newcastle 9/11/2013
Bringing together rare film screenings of key works from the golden age of UK horror, with an exclusive line up of musicians/bands influenced by them, Unearthing Forgotten Horrors is a celebration of horror in music and film.
Presenting North East (and English) premieres by outsider artists who operate on the occult fringes of the musical underground, Unearthing Forgotten Horrors, draws together a very special bill of eerie drones, psychedelic noise, and classic horror films rarely screened in cinemas.
Also featuring:
Inkfolk – THE PSYCHOGEOGRAPHICAL COMMISSION + FRAME MISSING
Inkfolk, Hebden Bridge 22/09/2013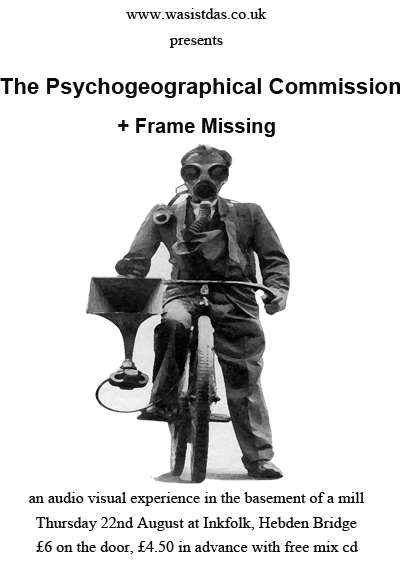 We'll be debuting our 'Banishment in five films' of Jack the Ripper to mark the 125th anniversay of the the murders this year.
With support from
Frame Missing
.
GLASGOW'S HIDDEN GEOMETRY: A NIGHT OF PSYCHOGEOGRAPHICAL EXPLORATION
Maryhill Burgh Halls, Glasgow 27/07/2013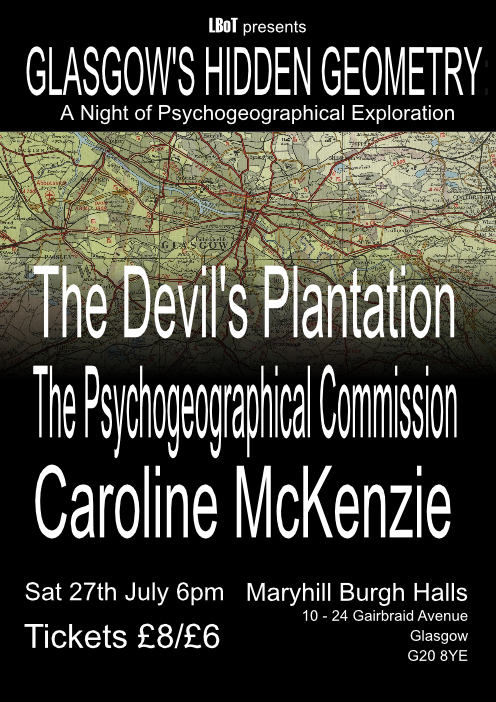 A Night of Psychogeographical Exploration in music from The Psychogeographical Commission and Glasgow sound artist Caroline McKenzie, with a showing of the feature film 'The Devil's Plantation' by BAFTA winning filmmaker May Miles Thomas, with an Introduction to Psychogeography by Dr David Manderson.
The Psychocinematic Ritual
Old Hairdressers, Glasgow 23/02/2012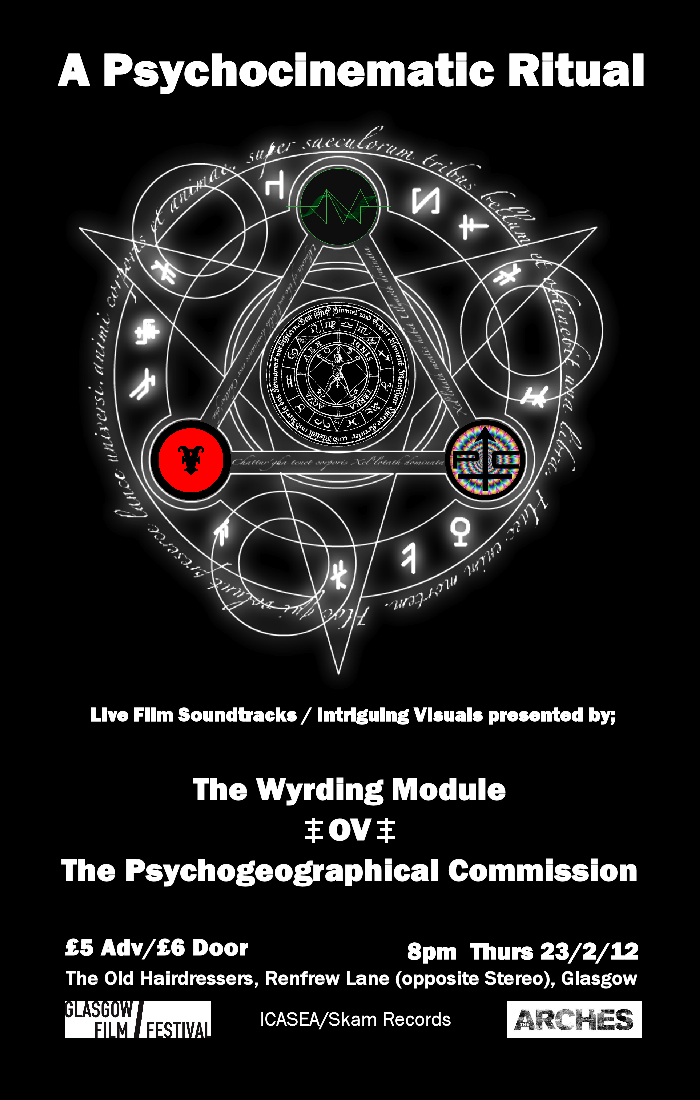 The Psychogeographical Commission appeared as the first chapter of 'A Psychocinematic Ritual' in conjunction with The Arches and Glasgow Film Festival. Also appearing as part of the ritual were the
Wyrding Module
and
OV